Hakeem Kae-Kazim slated to play Zeus in Netflix's and the BBC's 'Troy: The Fall of a City'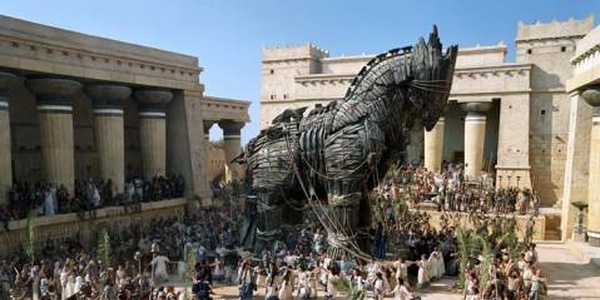 Variety reported that Hakeem Kae-Kazim has been tapped to play the Greek god Zeus in "Troy: The Fall of a City." The mini-series, being co-produced by Netflix and the BBC, is currently being filmed in Cape Town, South Africa. British Nigerian Kae-Kazim is best known for the role of George Rutugunda in "Hotel Rwanda." He has also appeared in such film series as "The X Men" and "Pirates of the Caribbean." His television credits include appearances on "24," "Criminal Minds," and "Gotham."
The Trojan War was a historical event, as was all but proven by German businessman and archeologist Heinrich Schliemann in the 19th century. The events of the siege and fall of Troy have been depicted historically, most recently in a 2004 movie by Wolfgang Peterson starring Brad Pitt and Sean Bean, among others.
However, it appears that the BBC/Netflix version will follow the narrative given by the ancient Greek poet Homer in "The Iliad" that depicted the Greek gods taking part in the battle. The poem is the very first known in Greek literature and is considered a classic.
The story of the siege of Troy starts when Paris, a prince of the city, falls in love with Helen, the wife of King Menelaus of Sparta, kidnaps her, and takes her back to Troy to be his bride, Menelaus calls on his fellow Greek rulers, including Agamemnon, Achilles, Odysseus, and others, for help in recovering his wife and taking Troy.
The narrative of the Iliad is filled with battle scenes, including single combat between the principles on both sides. Also making an appearance are Trojan characters such as Priam, the city's elderly king, Prince Hector, Paris' older brother, and a host of other mortals and Olympian gods. The battle ends, as every student knows, with the subterfuge of the Trojan Horse devised by Odysseus, King of Ithaca, who would later be the central character in Homer's other epic poem, "The Odyssey."
Louis Hunter and Bella Dayne will play Paris and Helen, the lovers who start the war, respectively. David Gyasi plays Achilles, Johnny Harris plays Agamemnon, and Lex King plays the goddess Aphrodite.
The scripts for the episodes of the miniseries were written by written by David Farr, Nancy Harris, Mika Watkins, and Joe Barton. "Troy: Fall of a City" is being directed by Owen Harris and Mark Brozel. The series will be broadcast on BBC One inside the UK and livestreamed by Netflix outside Great Britain later in 2017.