Netflix acquiring high school comedy 'Alexa & Katie'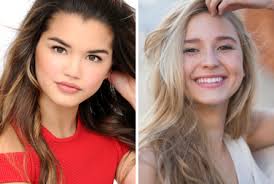 Deadline reported that Netflix is going to produce its first in-house comedy series, "Alexa and Katie," with an initial 13-episode order. The series depicts the misadventures of two lifelong best friends who are eagerly anticipating their freshman year in high school. However, a sudden crisis occurs that make the two friends feel like outsiders when all they really want is to fit in.
The series will star Paris Berelc, a veteran of various shows on the Disney XD channel as Alexa and Isabel May as Katie. The series is being created by Heather Wordham, most famous for having made "Hannah Montana," and Matthew Carlson, a producer of "Malcolm in the Middle." Both will produce the series, which is aimed at tween viewers of the sort who watch Disney and Nickelodeon.
Netflix has a much darker teen-centered series, "13 Reasons Why," which involves a teenager who commits suicide and examines the reason for the shocking decision. "Alexa and Katie" will without a doubt be a lighter series, dealing with the problems of growing up in 21st century America
"Alexa and Katie" will also be the live streaming network's first multi-camera comedy. Other comedy fares on Netflix, such as the Cuban-American reimagining of "One Day at a Time," have used a single camera. The show will also be the first to be developed by the network. Its other comedy fare comes from outside studios.
No other cast members, including family, fellow students, and teachers have been mentioned as of yet.
Movies and TV shows depicting teenage life have been a staple of American entertainment for decades. Growing into adulthood, first loves, deciding what to do with the rest of your life, getting hormonal, and facing temptation are universal for any age, Of course, some of the details are different, depending on what time period the show is taking place in. No one growing up in the sixties imagined what the perils of cyberbullying would be like, for example.
Various movies and TV shows have approached the subject of growing up and coming of age in different ways. The story can be sweet with a little bit of poignancy, such as anything produced by the late John Hughes, or even darkly satiric, like the 1988 classic "Heathers."
"Alexa and Katie" will soon join that long tradition of making entertainment out of the teenage years in America. Thus far it has some real talent attached to it and may prove a good half hour for its young demographic to spend some time watching.