Netflix and Univision jointly producing series about Mexican drug lord Joaquín 'El Chapo' Guzmán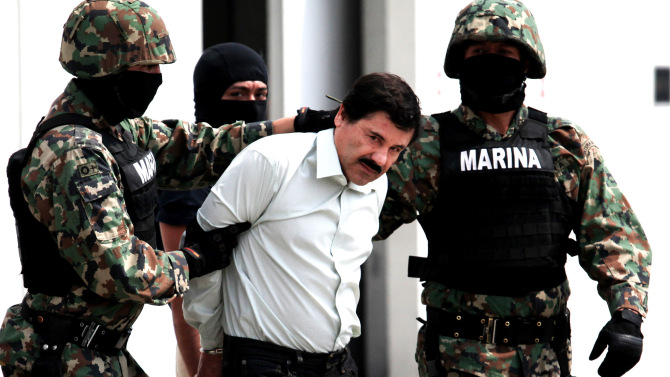 Rolling Stone reported that Netflix and the Spanish-language cable network Univision are jointly producing a series depicting the life of the notorious Mexican drug lord Joaquín 'El Chapo' Guzmán. "El Chapo" will premiere on Univision in April and will be available on Netflix soon after.
Before his final arrest and extradition to the United States, Guzmán was the head of the Sinaloa Cartel, the richest, most powerful criminal enterprise in the world. Guzmán's cartel's core business was smuggling cocaine from Columbia through Mexico and hence to an extensive distribution network throughout North America. The Sinaloa Cartel also dealt in meth, marijuana, ecstasy and heroin throughout North America and Europe.
Guzmán has lived, mildly speaking, a colorful life in his rise to wealth and power. He rose to the top of the illegal drug business through a combination of business acumen and murder. He worked for other drug cartels, such as the Guadalajara Cartel, during the 1980s. Eventually the Guadalajara Cartel's business was divided to be shared by three cartels of which the Sinaloa Cartel, partly run by Guzmán, controlled the Pacific Coast.
There ensued a shooting war between the Sinaloa Cartel and the Tijuana Cartel, which resulted in Guzmán being forced to flee to Guatemala in the early 1990s. The Guatemala authorities captured Guzmán and extradited him to Mexico where he was sentenced to 20 years in prison for his various crimes.
Guzmán, employing bribes, lived an opulent lifestyle while in prison, using guards as servants and continuing to run his criminal empire while behind bars. He finally bribed his way out of prison in 2001. He soon became the undisputed drug kingpin of Mexico, becoming a billionaire in the process. The Mexican government launched a crackdown on drug trafficking, resulting in what amounted to a civil war inside Mexico as cartel soldier battled with government authorities.
Guzmán was arrested again in 2014 but escaped from prison through a tunnel that had been dug between the shower area and a nearby home construction site. He was recaptured in 2016 and was extradited to the United States, where he faced charges that included money laundering, kidnapping, murder, and drug trafficking. He has pled not guilty. No date has been set as yet for a trial.
In an interesting twist, after his final arrest, Guzmán demanded royalties and threatened to sue both Univision and Netflix for unauthorized use of his name and life story. So far no word exists as to the results of this threat.