Netflix is developing a movie about Motley Crue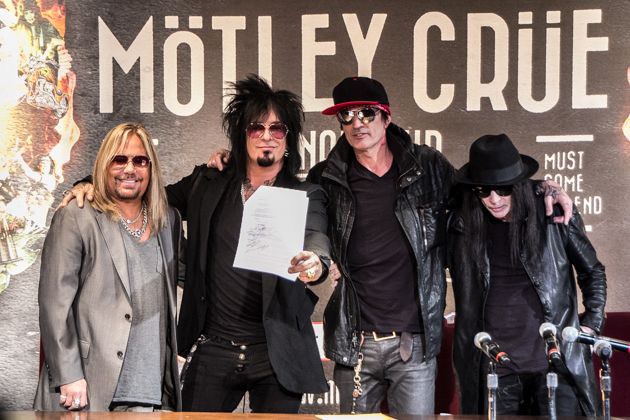 Deadline reported that Netflix is in talks to produce a film about the heavy metal band Motley Crue. The film will be based on the tell-all book "The Dirt: Confessions of the World's Most Notorious Rock Band" that was co-written by some of the surviving band members along with author Neil Strauss. The band members will co-produce the movie, which is being written by Rich Wilkes and Tom Kapinos, the latter the creator of the cable series "Californication."
Motley Crue was founded on January 17, 1981, by Nikki Sixx on bass guitar, Tommy Lee on drums, Vince Neil as vocalist and Mick Mars on the guitar. It its time, the band was one of the most successful groups on the music scene, selling 100 million albums. Motley Crue started as a hard rock and heavy metal band before segueing into glam metal in the mid-1980s. The band played to sell-out crowds around the world for three decades, on and off, with its final tour occurring in 2015. Motley Crue's final concert took place at the Staples Center in Los Angeles on December 31, 2015. The concert served as the basis of the group's last live album "The End: Live in Los Angeles." Its last studio album was "Saints of Los Angeles" that was released in 2008.
That the band members lived decadent, tumultuous lifestyles would be to put the matter mildly. The turmoil among the band members, with fallings-out, breakups and reunions, lawsuits, and backstage backbiting, was just part of the story of decades of excess that might have killed other people.
For instance, Vince Neil was involved in a head-on collision that killed his passenger, Hanoi Rocks drummer Nicholas "Razzle" Dingley in 1984. Neil wound up being charged with DUI and vehicular manslaughter. Nikki Sixx suffered a heroin overdose and was legally dead for two minutes before being brought back by a paramedic who happened to be a Motley Crue fan. The incident inspired the 1989 hit song "Kickstart My Heart."
The band members also engaged in a number of celebrity love affairs and marriages. Tommy Lee was married to actresses Heather Locklear and Pamela Anderson, for example.
"Dirt" has been in development as a film ever since it was a New York Times bestseller in 2001, being at various times at Paramount and Focus Films before Netflix expressed an interest in making the film.