Netflix to release Martin Scorsese's 'The Irishman,' starring Robert de Niro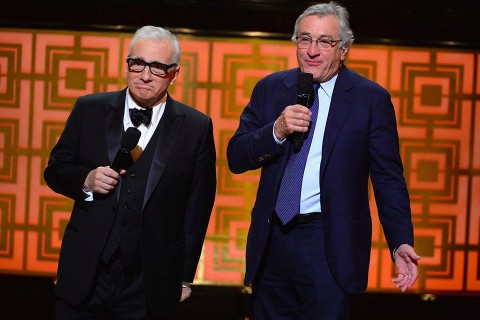 Martin Scorsese has been making big-screen films for decades, some of which, like "Goodfellas" and "Casino" are about the mob. Robert de Niro has been playing mobsters since his turn as a young Vito Corleone in "Godfather Part II" as well as the aforementioned Scorsese films. So it is no surprise that the two have teamed up once again for "The Irishman," in which De Niro plays Frank "The Irishman" Sheeran, a story about the assassination of Jimmy Hoffa, played in the movie by another veteran of mob films. Al Pacino. The surprise, though, is that Netflix has nabbed the distribution and streaming rights to the film.
According to Forbes, the arrangement makes a strange kind of sense in the modern economics of film making. Scorsese's last film, "Silence," about Christian missionaries in 17th century Japan did not tear up the box office. Paramount, which is the studio that is developing "The Irishman," has also seen better days, with a string of box office duds.
Netflix, on the other hand, has a pile of money, thanks to its world-wide expanding subscriber base. The streaming network is basing its brand on the quality of its original programing, both episodic television and movies. Scorsese is one of the first A-list directors to see his project picked up on Netflix. Despite being the sort of movie that Scorsese is a master of, revealing the seamy world of organized crime, with a number of A-list actors such as De Niro, Pacino, and Joe Pesci, "The Irishman" was considered a long shot for being a movie success, absent glowing reviews and a boatload of awards. The only sure thing now in Hollywood, at least in the minds of studio chiefs and development executives, is franchise movies, especially superhero films. Not even all of them make it at the box office, as "Batman v. Superman" proved.
Besides, technology is starting to change the way people experience going to the movies. Big-screen televisions, with high definition and state of the art sound, are allowing people to experience going to the movies without the inconvenience and aggravation of going to the movies. Why put up with noisy kids and stale popcorn when you can relax in your living room with home-delivered pizza and beer and watch a new show at leisure?
In effect, "The Irishman" deal suggests that the neighborhood Cineplex is a dying institution, and services like Netflix are rapidly becoming the future of the movie-watching experience.