Netflix's business relationship with the Weinstein Company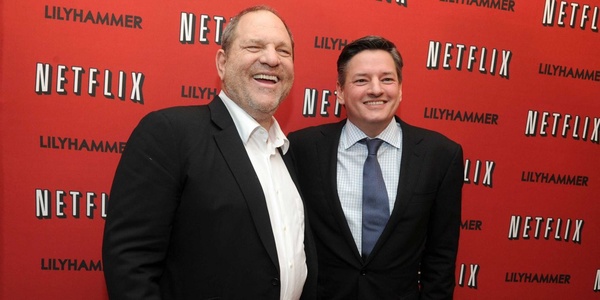 The scandal surrounding Hollywood producer Harvey Weinstein's decades of abuse of women have been well documented in the media. While the entertainment industry is notorious for the use of the casting couch, Weinstein is alleged to have taken the practice to levels so sordid that it was spoken about only in whispers until, at last, he was exposed in a New York Times article.
Players and companies are scrambling to distance themselves from Harvey Weinstein and the Weinstein Company that he cofounded. Netflix is no different in that regard, according to Variety. Addressing rumors that Netflix might buy the Weinstein Company, CEO Reed Hastings all but rejected the idea, likely a smart decision, considering the litigation the production company is likely about to endure. A great many actresses and other women are outraged by the notion that the Weinstein Company enabled Harvey Weinstein's behavior. His contract contained a clause that basically allowed him to assault women so long as he paid the settlement plus a fine that many are calling "pay for prey."
Netflix chief content officer Ted Sarandos tried to distance his company from the Weinstein Company when he claimed that it was at "arm's distance." However, Variety suggests that is not entirely true.
Thanks to a 2013 deal in which Netflix and the Weinstein Company started a business relationship, the two companies embarked on a number of joint projects, including a sequel to "Crouching Tiger, Hidden Dragon" entitled "The Green Legend" and the TV series "Marco Polo." Both projects turned out to be expensive failures, rare for Netflix. Netflix and the Weinstein Company have co-hosted the Golden Globes party for the past three years. No formal discussions have taken place concerning the next party, understandably.
Netflix is hardly the only entertainment company that has suddenly become embarrassed by a business relationship with Harvey Weinstein and his company. The number of companies that Weinstein did business with, which includes Dreamworks Animation and Walt Disney, reads like a who's who of Hollywood companies.
Weinstein's predatory behavior was pretty much known in entertainment industry circles but was also ignored as long as he was able to create lucrative content. Now the former Hollywood kingpin is losing everything, including, perhaps, his liberty if some of the rape allegations pan out. The people who did business with Weinstein, including those who run Netflix, have some soul searching to do and must answer the question, how did it come to this?