"Rogue One: A Star Wars Story" coming to Netflix in July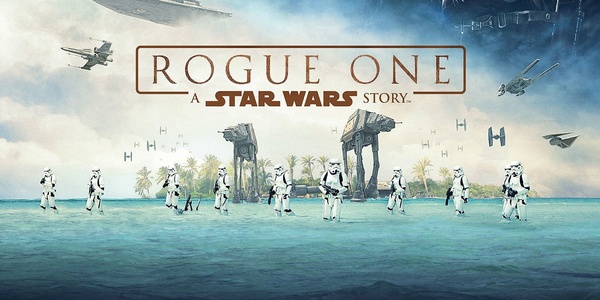 "Rogue One: A Star Wars Story" is coming to Netflix on July 17th. The premiere of the space adventure movie represents a deal between Netflix and Disney, which owns Lucasfilm and thus the "Star Wars" franchise. The deal moves Disney content directly from pay for view and DVD to the live streaming service, cutting pay for view cable networks such as HBO and Starz out of the equation entirely. "Rogue One" will be the first of the "Star Wars" films to be available so soon to American subscribers of Netflix. The live streaming network has offered the "Clone Wars" TV series from the Star Wars Cinematic Universe for the past few years.
"Rogue One" was the first of the "side stories" that take place outside of the primary sequence of "Star Wars" movies, of which seven have been released, and an eighth is due to premiere in theaters later in 2017. The movie tells the crucial story of how the plans for the Death Star were stolen, at grievous cost as it turns out, leading directly into the events of the very first "Star Wars" film ever, "Episode IV: A New Hope" that started the franchise in 1977, 40 years ago.
The movie also demonstrated how modern film technology could not only change the ages of actors but bring some back from the dead. Carrie Fisher, at the time of shooting about 60, appeared in a cameo of her role as Princess Leia apparently at age 20. Grand Moff Tarkin, a villain who appeared in the first movie, appears in "Rogue One" even though the actor who played him, Peter Cushing, passed away in 1994. The latter feat was done with an actor on whom Cushing's appearance was digitally overlaid. Even though the Cushing estate approved of the appearance, some critics thought that this kind of GI resurrection was sacrilegious. A similar effort to bring back the now deceased Carrie Fisher to reprise Princess Leia in Episode IX of "Star Wars" was nixed.
Even though most of the regulars, except the brief appearance of Princess Leia, are not in "Rogue One," the movie is an exciting space adventure, with plenty of action, a great deal of heart, and a tragedy at the end. The film is worth seeing, for the first time or the tenth time, for anyone who wants a memorable couple of hours in the comfort of their own living room.