'Santa Clarita Diet,' starring Drew Barrymore and Timothy Olyphant is a Netflix comedy about zombies and cannibalism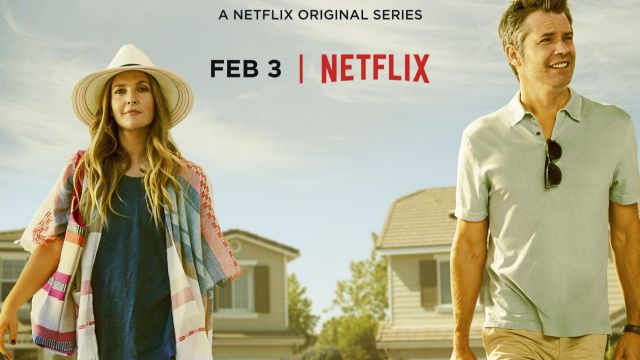 When one thinks about the zombie apocalypse, comedy is the last sort of thing that comes to mind. Indeed, shows like "The Walking Dead" portray such an event as an unrelenting, depressing horror in which the living must often envy the undead.
The upcoming Netflix series, "Santa Clarita Diet," seeks to find the humor in zombies and, just as important, the particular cuisine they are compelled to consume. Drew Barrymore and Timothy Olyphant star as a couple of married realtors living in the idyllic community of Santa Clarita, California. The premise is that Sheila, played by Barrymore, becomes one of the undead. Unlike the situation in shows like "The Walking Dead" whatever changed her is not sweeping the world, nor has it turned her into a shambling, incoherent monster. She finds that her self-confidence and physical abilities have shown a marked improvement.
However, as with everything, being a zombie has a downside. Sheila now craves human flesh.
Joel, played by Olyphant, takes the part of the wedding vow that states "in sickness and in health" to heart. Inside of cutting off his wife's head, he decides to help her with her affliction. The one ground rule is that she should only eat the evil, following a kind of twisted sort of ethical cannibalism that Dexter Morgan used to follow in his serial killing career. According to the tailor, the ideal candidate for Sheila's dinner table is a "young, single future Hitler."
Timothy Olyphant is generally not known for comedy, even of the dark kind. His most recent role was that of Deputy Marshal Raylan Givens in "Justified," who tended to shoot criminals with more frequency than modern lawmen are allowed. Drew Barrymore, of the famous Barrymore acting family, has been making movies since early childhood, when she was the cute little girl in the Spielberg film "ET." More recently she was in a pair of movie versions of "Charlie's Angels," which were played as much for laughs as they were for action.
Can a TV series about a perfect middle-class couple who kill people for the wife's particular diet find an audience? "Dexter" proved that TV viewers would accept a serial killer if he were likable enough and if his victims had it coming. Perhaps "Santa Clarita Diet" will gain acceptance for undead Americans, no matter what they have for dinner.
"Santa Clarita Diet" drops on Netflix February 3, 2017.