Could Gilmore Girls Reboot Earn New Generation Of Fans?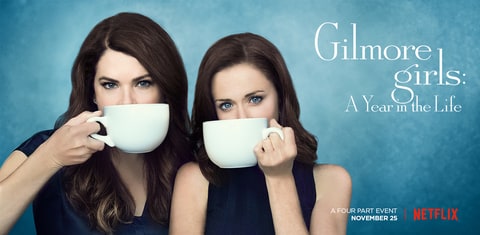 Netflix has returned audiences to Stars Hollow, that quaint Connecticut town filled with quirky characters and the Gilmore Girls.
Hoping to recapture the Emmy-winning form and pop culture wow factor, Netflix dropped four 90-minute episodes under the moniker, Gilmore Girls: A Year in the Life.
The kitschy concept behind the miniseries is that each segment reflects a season. That's winter, spring, fall and summer, not overviews of the show's initial seven years on The WB and later The CW.
Starring Lauren Graham (Lorelai Gilmore), Alexis Bledel (Rory Gilmore), Scott Patterson (Luke Danes) and Kelly Bishop (Emily Gilmore), the newly released reboot has been met with favorable reviews. The first episode, Winter, re-acclimates us to the goings in Stars Hollow. The story wisely chooses not to pick up where it left off nine years ago. The characters are older and the story takes time to account for some of those small and not so small changes.
To its credit, Netflix doesn't try to reinvent the wheel with A Year in The Life. Rather, they stick with the tried and true stars, format and creators. Original series creator Amy Sherman-Palladino directs all four episodes and has written Winter and Fall. Her husband, Daniel Palladino, also returns as the writer of Spring and Summer. Keeping this couple involved should make a world of difference with diehard Gilmore Girls fans. Having been involved at the deepest levels since the show was just a twinkle in their eye, the most intricate details and history won't be lost in this new release. And although we're talking about a fairly mainstream show, keeping Stars Hollow's integrity will be a key factor if the revival is to have legs beyond the four-episode jaunt down memory lane. USA Today has a nice spin on the type of foundational material that makes the show what it is — fast talk and pop culture references.
During the original run, the popular show immersed itself in the American psyche by referencing all things mainstream. Notables included calling Star Wars lightsabers "flashlight thingys" and showing immense concern that Oprah may "get mad at beef again." These little treats may give way to Fitbits, Amy Schumer, Kardashians and the fact that Ben Affleck is now Superman going forward.
In an era when the most prominent television series such as The Walking Dead and Game of Thrones are unevenly dispersed, four episodes of the Gilmore Girls makes for a yummy holiday pudding. If Netflix can keep this core team together, another lengthy run could pick up a new generation of fans. However it all plays out, the Gilmore Girls are back.